The post title is from a purported & unsourced
General Sherman quote
:
I hate newspapermen. They come into camp and pick up their camp rumors and print them as facts. I regard them as spies, which, in truth, they are. If I killed them all there would be news from Hell before breakfast.
Such a quote would not be out of character, since Sherman is currently the only general in US history to
court martial a reporter
:
Returning to the combat zone in the fall, Sherman suffered some battlefield losses and resultant negative press, provoking him to court-martial a New York Herald reporter, Thomas Knox (the only court-martial of a member of the news media in American history).
Knox was found guilty
and banished from the theater.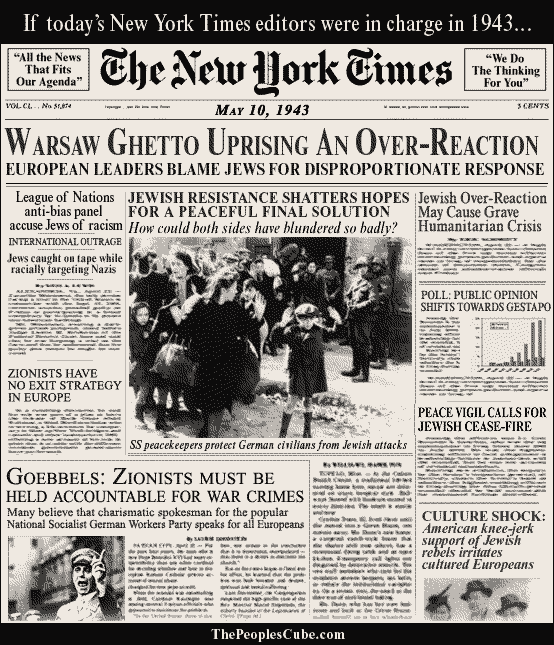 The People's Cube published a political satire of the New York media's continued tradition of supporting the enemies of the US entitled:
Warsaw Ghetto Uprising Was Overreaction
. What I found amusing &/or disturbing is that the
urban legends
website felt that it necessary to "debunk" this satire:
Nothing of the sort ever appeared on the front page of the New York Times. It's a parody.
The results of the
online poll
validate that it's not unreasonable for people not to automatically perceive the mock headlines as satire:
Yet, again, during the recent Mumbai attacks, the NYC media seem ready, willing, and able to aid & abet enemies of freedom either through irresponsible journalism or malice. CNN reported, real time,
a civilian couple's hiding location
and, not to be outdone, the New York Times blog reported the positions of
Indian security forces
, all of which could be accessed by terrorists seeking to kill and ambush said people.